Here's a Sunday post with a Thursday spirit! #TBT
This post is about the very best high chair… EVER! It's super safe. It's ridiculously versatile. And, it is truly durable. Here are some snapshots of what it looks like:
First, you'll notice that the tray comes off and the tray itself even has a liner. This is super nice for cleaning. And, it is ridiculously multi-purpose. You can use this for eating, crafts, playtime, etc. It's super usesful.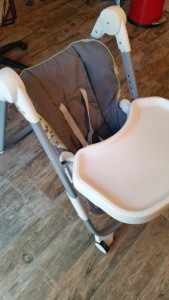 This is the lowest it can go while still seating a baby… just in case you have a mover, shaker, and otherwise escape artists. You can have it THIS low without worry of the kid shaking the chair to topple over.
It also folds into a razor thin profile. The chair back has three reclining settings. And, you've seen the height difference from totally lowered to the highest position. It's really nice. The fabrics all come off so you can wash them in the machine when they get dirty. There are several slots to change the height of the shoulder straps as your baby turns into kiddo mode. It slides around on the carpet and tile floors very easily. And, has a very effective brake system. I can't speak highly enough of this product. We did a lot of research before we bought it and we have been happy ever since.
Are you shopping for a high chair?
Do it! This, is the one you want. This is the one you NEED!